Bibbles Bandana Bibs – the Baby Bib Just Got Interesting!
When it comes to our cherished little ones, the fact is that bibs are a necessity. But why does a bib have to look so, well bib-like? Why can't a bib make more of a fashion statement? Well now it can, thanks to Bibbles Bandana Bibs!
A Bibbles bandana bib is just as protective and comfy as any regular bib (if not more so), it's just it looks seriously trendy – like a bandana! But not just any old bandana – a bang-on-trend, super-cool bandana!
Bibbles bandana dribble bibs are suitable from birth to three years and make the perfect funky accessory for your little ones during those weaning and teething times. The great thing is there is a massive range of different styles, patterns and colours, meaning you get to match your little one's bib to their outfit (or yours!), or even make a feature of the bib itself.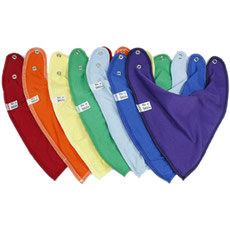 Quality, Care and Amazing Value
At Bibbles Bandana Bibs we're a family run business, and we care about quality. Well, what could possibly be more important than buying the best for your baby – and at a realistic, great value price? All Bibbles Bibs are handmade in Nottingham in the UK from premium, locally sourced fabrics. We ship worldwide AND you get a helpful, friendly service every time. If you need advice, you are always welcome to get in touch with us.
Soft, fleecy, ultra absorbent and easily fastened with two poppers at the back, Bibbles Bandana Bibs are adaptable as your baby grows. Buy single bibs, multiple bibs or bibs in packs. The more you buy, the more you save.
Motifs, Taggies… for Him, for Her
Whether it's a cool and trendy look you're after for your little one, or something a little more frills, fairies, butterflies and lace, you're sure to find it amongst the Bandana Bibs range. For him or for her, there really is something to suit every style and taste.
Our single dribble bibs range is packed with over 100 different designs, and our bib packs offer even greater choice. Take a look also at our motif bibscollection featuring our gorgeously girly pink Betsy Bunny bandana and our blazing red Superbaby bib for your own little superhero. Or for something truly unique, check out our Bibbles reversible Taggy bandana bibs. With their co-ordinating textured and tactile tags these really are the ultimate in style and stimulation for your baby.

Special Occasion Bibs
So you're off to a special do. Baby is dressed to impressed, and so are you. The last thing you want is an everyday bib spoiling the look! Step in the Bandana Bibs range of special occasion bibs.
Baby is sure to turn heads at your party donned with one of our sparkling bling bibs set with dazzling Swarovski crystals, and our Lacey Grace white dribble bib is perfect for weddings and Christenings. And what about your little man? Of course, he's catered for too! Our ultra-stylish tuxedo bib is just the ticket for that posh party. The range includes something to suit every occasion, and there are plenty of colour choices too for the ultimate outfit match.
Bibbles Bandana Bibs – The Perfect Gift
Whether you're welcoming a new member of the family, looking for the perfect birthday or Christmas present, or simply want to treat your own bundle of joy to something special, a Bibbles Bandana Bib makes the ideal gift.
We offer a two-day turnaround on all orders with worldwide shipping to most countries. To learn more about our service, about Bibbles and about our passion have a read through our FAQs, or simply get in touch about bandana baby bibs for some of that good old-fashioned personalised advice!